This is an archived article and the information in the article may be outdated. Please look at the time stamp on the story to see when it was last updated.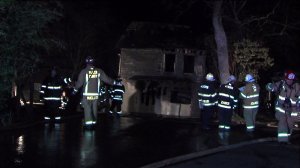 AUBURN—
Two houses near Placer High School were completely destroyed by fire early Wednesday morning.
Officials tell FOX40 that the two houses were along College Way, near Knoll Street. Firefighters from the Penryn and Auburn Fire Departments showed up around 3:30 a.m., finding that one two-story home and one single-story home were on fire.
The fires devastated the homes, but no residents were hurt.
Authorities are now investigating what sparked the fire.