This is an archived article and the information in the article may be outdated. Please look at the time stamp on the story to see when it was last updated.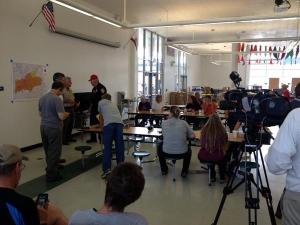 SHINGLE SPRINGS-
Firefighters are gaining ground fighting the Sand Fire in Amador County. It is now 65% contained, and forward progress has slowed.
The fire forced hundreds of people to evacuate their homes over the weekend, late Monday morning some of them were allowed back in to their neighborhoods.
While many were still sleeping early Monday morning in the gymnasium at Ponderosa High School, others were still coming in, the most recent of those forced to leave their homes because of the Sand Fire.
"I just want some coffee, something to lift the spirits you know," said a woman named Carol.
The Red Cross said they expect to feed about 90 people at breakfast time, and that 13 people stayed in the gym overnight Sunday, a number that fluctuates depending on how many people choose to sleep with their animals. Dogs and cats, or any other type of animal are not allowed in the gym, a usual mandate for Red Cross evacuation centers.
Some people here have been staying in touch with neighbors or family who give them updates on their homes.
"My neighbor keeps telling me my house is fine, the fire got really close though," Wendy Fisher, who's lived in the area since the 1970s, told FOX40.
Fire officials lifted evacuation orders for the Outingdale community, and homes east of E16, also known as Mt Aukum Road.
Cal Fire says the Sand Fire has burned 3,800 acres, which is about six square miles.