This is an archived article and the information in the article may be outdated. Please look at the time stamp on the story to see when it was last updated.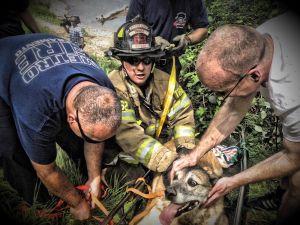 SACRAMENTO-
Firefighters came to the rescue of a family pet after the ground gave way during a family walk.
Bandit, a 12-year-old dog, and his family were walking along the American River Wednesday.
The trail gave out, sending Bandit down the hillside into thick bushes.
When his family was unable to reach him and help their pet, they called for help.
Firefighters from Sacramento Metro Fire District were able to utilize rope rescue techniques to return Bandit safely to his family.