This is an archived article and the information in the article may be outdated. Please look at the time stamp on the story to see when it was last updated.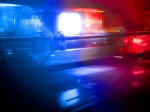 VALLEJO-
A Solano County HazMat team made up of several agencies has responded to a reported explosion and freon leak in Vallejo.
The explosion was at 24 Springstowne Center, off of Oakwood Avenue.
Stay with FOX40 and FOX40.com for more information as it becomes available.