This is an archived article and the information in the article may be outdated. Please look at the time stamp on the story to see when it was last updated.
SACRAMENTO -- It's the middle of the fall semester, so it wouldn't be strange to find a first-year college student studying but Micah Richard isn't reviewing psych notes.
She's going to candidate panels and studying her voter guide for the upcoming midterm elections.
When did the realization of finally being in the mix sink in?
"Ummm probably when I actually got my ballot in the mail. I actually get to vote this year," said the smiley 18-year-old.
Richard was one of about eight million young Americans who were close, but not yet old enough to cast a ballot two years ago when Donald Trump took the White House.
He's making himself a ballot issue everywhere by aligning local candidates and causes with his national vision - though he isn't officially up for any vote.
Trump is also a definite factor for this first time voter as she evaluates the issues.
"I saw it as it lined up with President Trump...has something to do with him."
While some people raise their kids to be the next generation of a particular political party and almost take offense if they don't follow through - not so in the Daniels-Richard household.
Richard's dad is a Republican, her mom is a democrat and she's somewhere in the middle.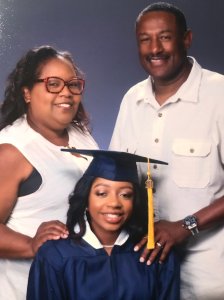 "It was more like I could pick whatever I wanted," she said.
"When she was born we really tried to...not just politically...but make sure she had her own voice. I remember her not wanting to eat the peas and instead of saying... you're gonna eat those peas...I said 'well why? tell me why,'" said Richard's mom, TK Daniels.
That kind of open forum has been a little interesting while filling out their mail-in ballots - a house divided but not divisive.
"Some things she felt one way and I felt another and I think that's the beautiful part of being an American," Daniels said.
The impact young voters will have on the most important midterms in decades remains to be seen.
Voters 18-29 tend to lean democratic and largely disapprove of Trump-era policies, but will newbies actually notch their voting belts?
Turnout for ballot-casters under 30 is historically anemic.
But data from Target Smart Communications shows that youth voter turnout in California for the 2018 primaries was up 9.28% from the primaries in 2014.
No one sitting on the bench in the Daniels-Richard house.
"I'm watching her develop. This is my baby, now a young lady...turning into a young woman. This is a celebratory moment," said Daniels.
"Voting is important because you actually get to put a choice in," said Richard.