This is an archived article and the information in the article may be outdated. Please look at the time stamp on the story to see when it was last updated.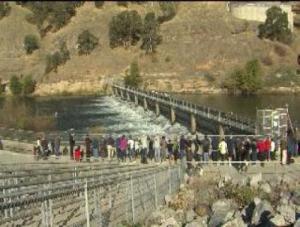 SACRAMENTO-
The California Department of Fish and Wildlife announced Monday that it is evacuating rainbow trout from the American River and Nimbus fish hatcheries.
The DFW cites reduced cold water supply because of the state's extreme drought as its reason to move the fish.
If water becomes too warm, biologists say it could cause "total loss" at all hatcheries. Experts expect this to happen by mid-summer.
So far, the DFW says only the American River and Nimbus hatcheries are affected, and the 20 other state-run hatcheries will be able to make it to the winter without having to evacuate.