This is an archived article and the information in the article may be outdated. Please look at the time stamp on the story to see when it was last updated.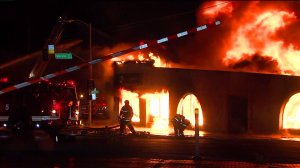 SACRAMENTO-
Flames spewing from a structure in Sacramento summon firefighters Friday morning. Crews were able to contain the fire to an independent Porsche repair shop on 34th Street and Stockton Boulevard.
The fire, starting around 4:15 a.m. had crews initially attacking the flames on the inside but they decided the best approach would be from the outside using ladder trucks.
Tires and other flammable items inside the repair shop likely gave this fire plenty of fuel, the flames could be seen from all around Sacramento, and threatened a nearby SMUD sub-station.
More than an hour later, the majority of the flames were out, after power was cut to nearby neighborhoods as a precaution.
No word yet on how this fire started and fire officials do not know for certain if anybody was inside at the time.
Collin Poseley contributed to this report.