This is an archived article and the information in the article may be outdated. Please look at the time stamp on the story to see when it was last updated.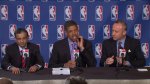 NEW YORK-
As Kevin Johnson, Darrell Steinberg, Vivek Ranadive and Mark Mastrov left their NBA press conference Wednesday afternoon, it was handshakes and hugs all around.
The group answered a few quick questions from the sports media about how their presentation went with the NBA Board of Governors. The group intent on moving the Sacramento Kings to Seattle went earlier in the day.
"We got down to the nuts and bolts," Johnson told reporters. "We're talking about the revitalization of a community, the globalization of a franchise and the transformation of a team."
Without going into specifics, Johnson, Steinberg and Ranadive said they were very confident in the case they made for Sacramento.
Ranadive said the ownership group assembled for Sacramento is pleased with the offer that was put forth. He added that he plans to make the Sacramento Kings the first team to transition into what he calls "NBA 3.0," which he sees as the next step in the globalization of the league.