This is an archived article and the information in the article may be outdated. Please look at the time stamp on the story to see when it was last updated.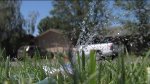 FOLSOM-
Christmastime in Folsom is going to be merry and dry; everyone is being asked to reduce their water usage by 20%.
The Folsom City made the announcement Monday morning, citing low lake levels.
"Folsom Lake, our primary water source, is now at 21 percent capacity, a near record low," Evert Palmer, Folsom City Manager, said.  "This low water level, combined with critically dry weather conditions, necessitates immediate action to conserve water and protect our water supply."
The mandatory cutbacks include limiting landscape watering to two days a week, no use of city water for construction purposes, and no washing of parking lots, streets, driveways or sidewalks.
"During cold winter months, landscapes need very little water, making this an easy time of year to achieve significant water savings," Marcus Yasutake, Environmental & Water Resources Director, said. He figures about 60% of the water used by a typical Folsom family is on their yards.
For those who want to keep watering their lawn, no irrigation is permitted on Mondays, Thursdays or Fridays. Residents with even-numbered street addresses can water on Wednesday and Sunday, and odd-numbered homes on Tuesday and Saturdays.
Additional information is posted on the City's website at www.folsom.ca.us.