This is an archived article and the information in the article may be outdated. Please look at the time stamp on the story to see when it was last updated.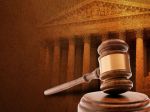 SACRAMENTO-
A former Anderson Police officer was arrested Monday in Redding on civil rights charges, U.S. Attorney Benjamin Wagner announced.
Bryan Benson, 28, is accused of sexually assaulting a woman while transporting her to jail. According to court documents, the assault reportedly happened May 29, 2010. Benson is also charged with obstruction of justice and filing a false report.
Benson reportedly told a dispatcher that the woman was brought to the Shasta County Jail about eight minutes for they actually arrived. Prosecutors say Benson did this to prevent any investigation.
Benson pleaded no contest. His arraignment is scheduled for Tuesday afternoon in Sacramento.