This is an archived article and the information in the article may be outdated. Please look at the time stamp on the story to see when it was last updated.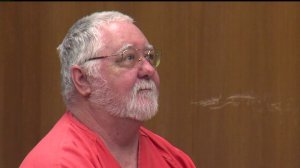 STOCKTON-
59 year-old Darrel Golden was sentenced to 14 years in jail after pleading guilty to four counts of child molestation and sexual abuse.
Golden is a former second and fourth grade teacher at Traina Elementary School in Tracy, Calif. More than 30 counts of his lewd conduct toward former students dated back to 2006. Acts included touching, fondling, grabbing, massaging, and calling some of his female students his "wives."
Before sentencing, Golden's wife and victims spoke in court.
"I am sorry the families had to go through this," Golden's wife, Agnes Anaya said. "Even though he pleaded guilty, he is not guilty."
"I trusted you with my child and you failed her," a mother of one of the victims said.
Golden will spend the next 14 years in State Prison, and will have to register himself as a sex offender.
As the criminal case ends, a new $10 million civil lawsuit is underway against the Jefferson School District, for allegedly not handling the matter appropriately.
"It's just a shame that their negligence is going to affect these victims for so many years," Ken Meleyco, an attorney representing one of the victim's mother said.
The claim states the mother is suing the district after Golden violated her six-year-old daughter in 2006. But when she took up her concerns to Traina Elementary School's former principal, Sue Moffitt, Moffitt reportedly threatened the undocumented mother with deportation, if she took the issue up to police.
"It's a terrible injustice done by first Mr. Golden, of course, by molesting this young girl, and second by Mrs. Moffitt," Meleyco said.
The claim also stated Moffitt told the mother of the alleged victim, "She had to protect her teachers and that her daughter must have dreamed this up."
Fearing being deported to Mexico, the mother said she took no action at the time.
Now, the mother is requesting $10 million in damages for her daughter, including lifelong PTSD and loss of self-confidence.
The mother is suing the district instead of Moffitt because the statute of limitation for her failure to report a child abuse (misdemeanor) ran out in 2009.
However, Moffitt claimed she warned Golden on several occasions about his behavior, and even conducted her own investigation, which turned up nothing.
Moffitt is no longer at Traina Elementary. She is now the principal for Tenaya Elementary School near Yosemite National Park.
Meyleco said his office is preparing to file the civil lawsuit by next Friday.
FOX40 contacted Jefferson School District for comment. They did not reply.