This is an archived article and the information in the article may be outdated. Please look at the time stamp on the story to see when it was last updated.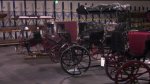 SACRAMENTO-
More than two dozen museums and attractions around Sacramento will offer free or half-priced entry on February 1.
A popular tradition, it's the 16th annual Sacramento Museum Day. This year, two new museums have joined the list; the California Statewide Museum Collections Center and the Center for Sacramento History.
A total of 28 museums will be free from 10 a.m. to 5 p.m. The Sacramento Zoo and Fairytale Town are offering half-price admission, to help offset parking control and security costs.
Many of the participating museums are within walking distance, or accessible by public transportation.
For more information about admission, locations and parking options, head to SacMuseums.org, or call the Sacramento Convention & Visitors Bureau at (916) 808-7777.
[vimeo 84997097 w=600 h=337]
Participating Museums for Sacramento Museum Day 2014:
– Aerospace Museum of California
– California Automobile Museum
– The California Museum
– California State Capitol Museum
– California State Military Museum
– California State Railroad Museum
– California Statewide Museum Collections Center
– Center for Contemporary Art, Sacramento
– Center for Sacramento History
– Crocker Art Museum
– Discovery Museum Science and Space Center
– Don & June Salvatori California Pharmacy Museum
– Fairytale Town
– Governor's Mansion State Historic Park
– Heidrick Ag History Center (Woodland)
– Leland Stanford Mansion State Historic Park
– Maidu Museum & Historic Site (Roseville)
– Museum of Medical History
– Old Sacramento Schoolhouse Museum
– Old Sacramento State Historic Park
– Roseville Utility Exploration Center
– Sacramento Children's Museum
– Sacramento Historic City Cemetery
– Sacramento History Museum
– Sacramento Zoo
– Sojourner Truth Multicultural Arts Museum
– State Indian Museum
– Sutter's Fort State Historic Park
– Wells Fargo History Museum (Capitol Mall)
– Wells Fargo History Museum (Old Sacramento