This is an archived article and the information in the article may be outdated. Please look at the time stamp on the story to see when it was last updated.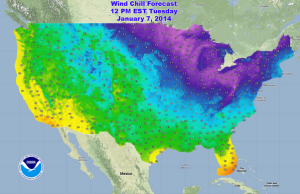 (CNN)-
The historic freeze that proved too cold for polar bears in the Midwest is spreading, dropping temperatures in the eastern third of the country about 20 degrees below normal for Tuesday, forecasters said.
Meanwhile, much of the Deep South is frozen solid, with hard freeze warnings in effect Tuesday from eastern Texas to the Florida Panhandle.
How cold will it get? In New York, where it was about 50 degrees Fahrenheit (10 degrees Celsius) with wind chill Monday morning, could plunge as low as minus 7 (minus 22 C) on Tuesday — a nearly 60-degree drop in a single day.
Both Atlanta and Washington will shiver in 6-degree weather; Pittsburgh will shudder at 4 degrees F (minus 16 C).
All this thanks to a distorted polar vortex.
Stranded Amtrak passengers
The nasty winter weather left 500 people on three Amtrak trains stranded overnight in northern Illinois, an Amtrak spokesman said.
The Bureau County Sheriff's Office said it responded Monday night after the trains were reportedly stuck in snowdrifts.
The Mendota Police Department received a report from Amtrak around 6 p.m. (7 p.m. ET) about a train stuck about 4 miles west of the city, Sgt. Ken Haun said. Officers tried to reach the train but couldn't because of the weather.
Amtrak worked to make other arrangements, putting some passengers on buses.
On one train, about 300 passengers had to wait more than nine hours to reach their destination, CNN affiliate WXMI reported.
The train was stuck in Kalamazoo, Michigan, en route to Chicago. "It was kind of like purgatory," a passenger told CNN affiliate WLS, adding that it was "not quite hellish because there was good company."
Crippled air travel, too
By 7 a.m. ET Tuesday, more than 1800 flights were canceled within, into or out of the United States, according to flightaware.com.
New York resident Mindy Goldberg said her family's flight back from Mexico had been diverted to Boston because of the weather.
"I just called my kids' school to tell them they wouldn't be there, and she said, 'Everyone's stuck somewhere,' " Goldberg told CNN affiliate WBZ.
In Indianapolis, Los Angeles resident Jason Bentley decided to play in the snow outside the airport after learning that his flight home had been canceled Sunday. It was 15 below zero (26 below zero C).
"This is the wettest snow I've ever touched," Bentley said, "the easiest snow to make a snowman and to have snowball fights. It's also probably the worst (weather) I've ever been in because of the temperature."
Not just cold, but deadly
Authorities have blamed at least 15 deaths on the cold so far, including 11 from traffic accidents and two involving hypothermia.
Extreme wind chills mean flesh can freeze in as little as five minutes. Several major school districts are closed Tuesday, including those in Minneapolis and Atlanta, to prevent children from waiting outside at bus stops.
Chicago also opened up 12 centers for residents trying to stay warm, one of which was to stay open through Tuesday. Libraries and some other city facilities would also be open, said Evelyn Diaz of the city's Department of Family and Support Services. Quinn said 100 warming centers were open statewide.
When will this end?
Temperatures should start edging closer to normal starting Wednesday.
By Thursday, most of the country will be back to normal, CNN meteorologist Brandon Miller said. In fact, some temperatures may even be a bit higher.
By Josh Levs. Holly Yan, Marlena Baldacci, Kait Richmond, Deborah Doft, Matt Smith, Indra Petersons, Stephanie Elam, Paul Vercammen and Dave Hennen
The-CNN-Wire
™ & © 2014 Cable News Network, Inc., a Time Warner Company. All rights reserved