This is an archived article and the information in the article may be outdated. Please look at the time stamp on the story to see when it was last updated.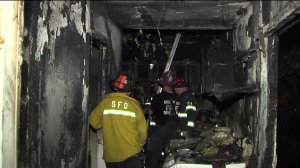 SACRAMENTO-
Three days have passed since a fire destroyed everything inside of Gina Lujan's home along 33rd Street in Oak Park.
"Thursday morning the house burned down, and we had this website up by six that evening," Christine Ault said.
Ault and her friend, Liz Selmi, started a Caring.com fundraiser for the Lujan family.
In just three days, it has already exceeded its $10,000 goal.
"It says a lot about the community. I also think its says a lot about Gina, and the impact she's had on her community," Ault said.
Lujan is the co-founder of midtown's Hacker Lab. The business helps local start up companies. She is esteemed by her colleagues for her extensive work jump starting midtown's expansion.
When the fire gutted Gina's home, it only seemed right that the local business community pay it forward.
Not only have they donated money to her family's relief fund, they've left personal testimonies and encouraging words on the fundraising website.
One such comment says, "Your community loved you. We will support you through every stage, while you persevere."
Ault says Lujan is a creative, caring woman, who maximizes her resources.
"She's just able to cobble together whatever she can in order to make things happen," Ault said.
Lujan's friends are still raising money for the Lujan family. If you'd like to donate, you can visit their page here.