This is an archived article and the information in the article may be outdated. Please look at the time stamp on the story to see when it was last updated.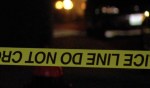 WEST SACRAMENTO-
Four gang members were arrested Tuesday morning in connection with selling methamphetamine and criminal street gang activity.
Officers from West Sacramento and Sacramento Police Departments, the FBI, the CHP, and other agents took part in the warrant searches and arrests. Cocaine, marijuana, meth and ammunition were confiscated during the searches.
Richard Mancha, 29, Richard Posada, 28, Ricardo Garza, 37, and 37-year-old Robert Sanchez are facing drug and gang charges. The four arrested men are known members of the Norteno street gang.
Tuesday's arrests are the result of an investigation into the sale of methamphetamine in West Sacramento.