This is an archived article and the information in the article may be outdated. Please look at the time stamp on the story to see when it was last updated.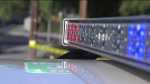 STANISLAUS COUNTY-
More than 100 officers from several law enforcement agencies across Stanislaus County began a county-wide gang sweep Wednesday morning.
By 4 p.m., 11 arrests were made and two guns were seized.
Officers from Modesto Police, Stanislaus County Sheriff's Department, Ceres Police, Turlock Police, Newman Police, the California Highway Patrol, the Central Valley Gang Impact Task Force, ICE, the Department of Corrections and the Stanislaus County District Attorney's Office all participated.
About 115 "gang-related" targets were identified, according to a news release from Modesto Police.
Officers said they would continue their sweep through Wednesday evening.