This is an archived article and the information in the article may be outdated. Please look at the time stamp on the story to see when it was last updated.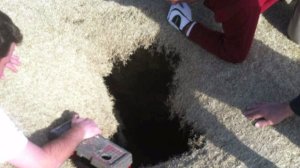 WATERLOO, Ill.-
Possibly the largest sand trap in history swallowed an unsuspecting golfer — whole — in Illinois.
It happened at the Annbriar Golf Course in Waterloo.
Mark Mihal, 43, was getting ready to play a shot on the 14th hole when he suddenly found himself 18 feet underground.
A 10-foot wide sinkhole had opened up in the middle of the fairway.
Golf course staff stuck a ladder down the hole for Mihal to climb up, but he had dislocated his shoulder in the fall and needed help.
One of his playing partners climbed down and put a rope around Mihal's waist to pull him to safety.
Waterloo is located in the Ozark ecoregion, which is prone to soil collapses, according to experts.
The golf course is fixing the hole, and hopes to have the full course open again by sometime next week