This is an archived article and the information in the article may be outdated. Please look at the time stamp on the story to see when it was last updated.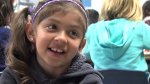 DIXON-
Thursday was Jessica Day at Tremont Elementary in Dixon, as students celebrated the second grader – their very own hero.
"I was walking. I saw it," Jessica Gutierrez, 7, recalled, when she spotted the wallet on her way to Tremont on Friday.
"I picked it up and I looked at it and I just saw the money," she said. There was between $400 to $600 inside.
Without a second thought, Jessica turned the wallet over once she got to school. Her mother's words resonating in her head: "If it's not yours, you can't have it or keep it."
The woman who owned the wallet gave Jessica a reward and once at home, her mom commended her for making the right choice.
"She just said that she was proud of me," Jessica told FOX40.
"There's so many out there today about kids. And here's a child who did the right thing. And the community has come together," educator Adrienne Kaufman said.
Jessica and her siblings will eat free at Cattlemen's, whenever they show up wearing T-shirts the restaurant gave them. Mary's Pizza Shack threw Jessica and her class a pizza party.
Her family will get free pumpkins for life from Cool Patch Pumpkins, along with a lifetime pass at the World's Largest Corn Maze.
A college scholarship fund has been set up for little Jessica. You can donate to that by going to First Northern Bank of Dixon, or the Dixon Chamber of Commerce.