This is an archived article and the information in the article may be outdated. Please look at the time stamp on the story to see when it was last updated.
SACRAMENTO — Grant Union High School students are seeking help raising the remaining amount of money needed to fund an upcoming trip to San Francisco.
The students were invited to see the play "Hamilton" after completing a unit provided by actor and playwright Lin-Manuel Miranda and the Hamilton Education Program.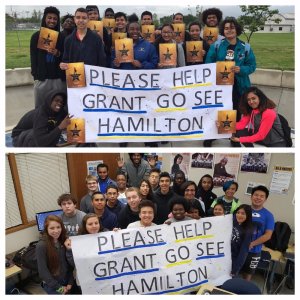 "Before the students see the show, their teachers will guide them through a unique, hands-on class project using Gilder Lehrman Institute resources to introduce the students to the people, events, and documents of the founding era. In addition, the students will learn how Lin-Manuel Miranda, the creator of Hamilton, incorporated primary sources into the songs he wrote for the show and use that knowledge to produce their own performance pieces."
In addition to receiving tickets, three students will have the honor of performing on stage with the cast.
Their Go Fund Me page says they need money for transportation and lunch because it will not be covered by the district.
The date of the trip is April 26. So far they have raised $495 of their $2,500 goal.