This is an archived article and the information in the article may be outdated. Please look at the time stamp on the story to see when it was last updated.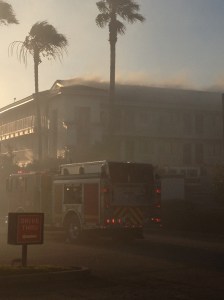 FAIFIELD—
Solano County crews battled a 4-alarm fire that spread to a Fairfield hotel Tuesday evening.
Fairfield Fire Department that the fire started a little before 7 p.m. near I-80 and Suisun Valley Road.
Around 7:30 p.m., the fire department reported that the Motel 6 along Central Way is involved in the fire.
Four of the hotel's units were affected, but the residents evacuated in time and no one was said to have been hurt.
Crews got a handle on the fire a few hours later and were only putting out embers by 9:30 p.m.
Luana Munoz contributed to this report.