This is an archived article and the information in the article may be outdated. Please look at the time stamp on the story to see when it was last updated.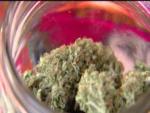 SACRAMENTO-
A woman whose involvement with medical marijuana dispensaries pitted federal and local laws against each other has pleaded guilty to manufacturing and distributing marijuana.
Lynn Smith and Matt Davies were arrested in July 2011 after several dispensaries they had partial interests in were raided in San Joaquin and Sacramento counties. Davies' story has attracted national attention as marijuana dispensary advocates argue this Stockton father of two was following local law.
Smith and Davies opened their first storefront in 2009; before it was closed seven months later, Federal prosecutors argued the dispensary generated profits of about $290,000.
The pair was arrested after another series of raids in 2011.
According to Smith's plea agreement, she and Davis became involved in growing and harvesting marijuana. When a warehouse belonging to them was raided in 2011, 1,962 growing plants and 40 pounds of processed marijuana were found.
Smith's deal could mean a minimum of five years in a federal prison when she is sentenced in April.
Davies' attorney told FOX40 earlier this week they were hoping to avoid a federal prison sentence.
On Friday, both Smith and Davies appeared in court. Davies did not enter a plea or make any announcement of a possible resolution on his charges.
His attorney, Steven Ragland stated in a press release:
"Matt Davies is facing federal charges for manufacture of medical marijuana even though it is perfectly legal in California. Matt worked hard to follow that law and trusted President Obama and his administration when they told the American people that they would not prosecute people who follow state law. The justice Department has a duty to tell the American people exactly what its policy is."