This is an archived article and the information in the article may be outdated. Please look at the time stamp on the story to see when it was last updated.
SACRAMENTO-
A gun control bill has gained momentum in the capitol, now up for review by a Senate committee.
It's designed to take guns away from potential mass shooters before they commit a crime.
The proposed law comes after a gunman opened fire at a crowd in Isla Vista in May and wouldn't remove guns from a person's hands permanently.
But lawmakers say the bill is a step in the right direction, and even 2nd Amendment supporters can get behind it.
District 15 Assemblymember Nancy Skinner wrote Assembly Bill 1014.
"Public safety already said yes to it," Skinner told FOX40 Monday.
She said it's a way for family members, licensed therapists and health care providers to do more to prevent mass shootings by petitioning a judge to act with a gun restraining order similar to laws already in place for domestic violence cases.
"When they know that someone is at risk to be dangerous to themselves or others that we can get a gun violence restraining order and either prevent them from purchasing guns or remove the guns," Skinner said.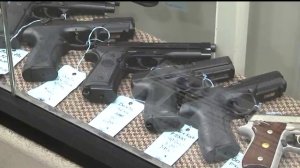 Skinner pointed to Elliot Rodger's shooting and stabbing rampage around the UC Santa Barbara campus in may as an example of how the current system failed.
Rodger's parents warned police in that county before the attack.
"Law enforcement went and the only tool they had was to talk to him, and when they spoke to him he appeared fine. There was nothing more they could do," Skinner said.
But with AB 1014, Skinner said Rodger's family could have done more.
"Here's why we're concerned, here's his history, and then they could get a gun violence restraining order if they felt it was warranted," Skinner said, describing the processes.
Skinner said while there are usually always opponents to gun control legislation, she believes this bill doesn't intrude as much on individual's 2nd Amendment rights.
That's because anyone who has had their firearms taken away can appeal to get them returned.
"And the judge could then hear that and remove the order from (that person)," Skinner described removing the restraining order.
Skinner said if it passes the senate and assembly floors, it could be on the governor's desk by September.
If Governor Brown signs it, the bill would become law by Jan. 1.