This is an archived article and the information in the article may be outdated. Please look at the time stamp on the story to see when it was last updated.
DAVIS — The gunman who shot and killed 22-year-old Davis Police Officer Natalie Corona Thursday night has been identified by the Yolo County Sheriff's Office as 48-year-old Kevin Douglas Limbaugh.
According to documents obtained by FOX40, in September 2018, Limbaugh was facing a felony charge for battery with serious bodily injury after an incident at Cache Creek Casino Resort.
The casino's spokesman, Micheal Traum, confirmed that Limbaugh was employed at the casino resort at the time of the incident.
"As indicated in court records, the suspect was an employee of Cache Creek Casino Resort who was involved in an altercation in September 2018. The incident was reported to the Sheriff's Office and the suspect's employment ended immediately thereafter. We cannot offer any further details on this personnel matter," Traum said in a statement submitted to FOX40.
The charge was reduced to a misdemeanor through a plea agreement.
Yolo County's Chief Deputy District Attorney, Jonathan Raven told FOX40, they found no records in their search indicating Limbaugh had any mental health issues.
Limbaugh pleaded no contest to the misdemeanor charge and was ordered to surrender a .223 caliber Bushmaster AR-15 semiautomatic rifle this past November.
It was believed at the time Limbaugh had no access to other weapons, according to the documents.
Kevin Douglas Limbaugh's 2018 Court Documents
[scribd id=397332617 key=key-Kx2ZF0lWDcNGodIWiqec mode=scroll]
[scribd id=397330687 key=key-85LPV2z4O02dd6jPUcDU mode=scroll]
Suspect Found Dead
Thursday night, several law enforcement agencies joined in the search for the suspect. He was last seen wearing a baseball cap, black jacket, blue or tan jeans and black tactical boots.
Late Thursday night, officers surrounded a home on 5th Street, calling for someone inside to come out.
After Limbaugh's roommate was evacuated, a dangerous dance began with officers surrounding the house for hours, the suspect coming out twice.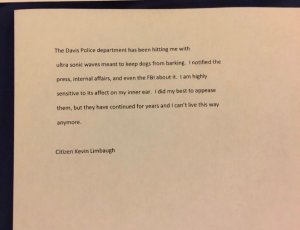 After pushing a couch up against the front door, Police Chief Darren Pytel says Limbaugh shot himself in the head.
Authorities say Limbaugh left a note saying he notified multiple agencies that the Davis Police Department was using "ultrasonic waves" against him. The note was signed, Citizen Kevin Limbaugh.
Kevin Douglas Limbaugh's History
Limbaugh's father tells FOX40 his son has been estranged from their family for more than 10 years and loved ones had no idea why he vanished from their family and home state.
The father said he only had a vague idea his son was in California but also said he didn't know where.
Limbaugh's father also revealed to FOX40 that before disappearing, Limbaugh showed no signs of mental problems and was not involved in guns.
BREAKING: Kevin Limbaugh's dad was in shock when I spoke to him. At that time he'd not been contacted by any authorities in California and did not know his son was accused of killing @cityofdavispd Officer Natalie Corona and then taking his own life. @FOX40 pic.twitter.com/RL1PGaQvdB

— Sonseeahray Tonsall (@tonsalltv) January 12, 2019
BREAKING: The now identified suspected killer of Davis Officer Natalie Corona is 48- year-old Kevin David Limbaugh. Limbaugh's father tells me his son has been estranged from their family for more than 10 years. @FOX40 pic.twitter.com/awkv5UaZtA

— Sonseeahray Tonsall (@tonsalltv) January 12, 2019
#NEW: @cityofdavispd reading letter found at residence of deceased shooting suspect – Kevin Limbaugh. @FOX40 pic.twitter.com/19LHCoW4M4

— Charmaine Nero (@CNeroTV) January 13, 2019
Stay with FOX40 for more on this developing story.