This is an archived article and the information in the article may be outdated. Please look at the time stamp on the story to see when it was last updated.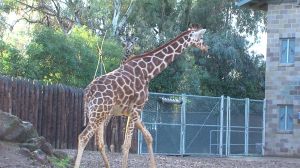 SACRAMENTO-
The Sacramento Zoo wants yard waste to help feed the animals.
Every day the zoo feeds pounds and pounds of "browse"; non-toxic branches and leaves from specific trees and shrubs, similar to what the animals would find in the wild.
Creatures big and small, from giraffes to chimps to birds, graze on browse.
The list of desired plants include acacia, ash, bamboo, birch, botte brush, magnolia, and much more. Homeowners who trim branches from these trees, or the others on the list, can contact the zoo for pickup.
Click here to learn more about the program.