This is an archived article and the information in the article may be outdated. Please look at the time stamp on the story to see when it was last updated.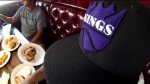 SACRAMENTO –
The people of Sacramento are definitely eating it up, sporting the purple everywhere you look.
"If they take the Kings out of Sacramento, what's that say about the NBA," said Amir Daliri, a Kings fan.
He was tied to his Twitter account all day, keeping tabs on the goings-on in New York City.
"I'm just checking updates as they come in. Wanting to hear the story straight from the horse's mouth," Deliri said.
And business in town are showing their colors too.
"I think all businesses are really looking forward to having something central that's a focus point for Sacramento," said Mike Frampton of The Melting Pot restaurant.
Frampton is giving specials tonight for anyone wearing purple, and they even invented a drink for the occasion the "Here We Sip."
If it's not, at this point, about getting the message out it is about getting together.
"How much influence can we have on it from here I don't know. But I think it shows support is in the community," Frampton said.