This is an archived article and the information in the article may be outdated. Please look at the time stamp on the story to see when it was last updated.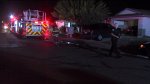 SACRAMENTO-
Firefighters say a man was hurt trying to put out a garage fire Tuesday morning along Daya Way.
The fire started in a car parked between two homes, which then spread to a garage and into an attic, according to investigators.
Metro Fire says a total of 26 firefighters responded to the scene and saved a potential $200,000 in damage.
One man was injured while using a garden hose to douse the flames and was taken to the hospital with burns. Metro Fire notes that no firefighters were hurt.