This is an archived article and the information in the article may be outdated. Please look at the time stamp on the story to see when it was last updated.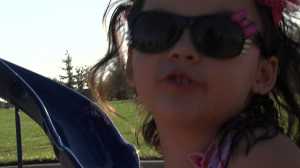 SACRAMENTO-
Malyia Jeffers has come a long way in the two years since she lost her limbs as a result of what her family feels is a blatant case of medical malpractice.
At a park by her home in Sacramento, Malyia, now four years old, scoots her body to the top of the jungle gym using her two prosthetic legs and the strength from her arms.
"Seeing her play and being independent, it's a happy (feeling) for, probably, any father," said Malyia's dad, Ryan Jeffers.
For Malyia and her family, those moments have not come easy. In 2010, four days after Thanksgiving, Malyia's parents brought her to the emergency room at Methodist Hospital of Sacramento. Her skin was turning purple while a nasty case of streptococcus worked its way through her body.
An investigation by the Department of Health and Human Services confirms the Jeffers' claim that Malyia was left waiting to see a doctor for up to four hours.
"That they made me wait that long, it was horrible thinking about it," said Malyia's dad.
Jeffers feels the hospital wasted precious time that could have been spent saving his daughter's limbs. Doctors at another hospital were forced to amputate Malyia's legs and portions of both of her hands.
The report by the Department of Health and Human Services not only outlines the hospital's deficiencies, but changes the hospital made as a direct result of Malyia's case. Hospital officials have implemented new procedures, policies and audits. For example, the hospital has assigned a nurse to the ER lobby 24/7 to assess patients as they come in.
Methodist Hospital of Sacramento told FOX40 in a statement, "The Jeffers family remains in our thoughts and prayers. We hope Malyia continues to improve and flourish. Our commitment is to continually improve the quality of care we provide our patients."
Attorney Moseley Collins helped the Jeffers family secure a $10 million settlement with the hospital to cover the cost of Malyia's past and future care. It's believed to be the largest settlement of its kind in California history.
"It's forced the hospital to look at what they're doing and to make changes that result in better care," said Collins in reference to the lawsuit and the investigation.
Two years later, Malyia is adapting well to life with prosthetic legs and without the use of her fingers.
She surprised everyone at her parents' wedding last March, by walking down the aisle on legs she was fitted for the day before the ceremony.
"Not only to walk down the aisle, but to be happy and that's what touched a lot of people," said Ryan Jeffers.
The Jeffers family is confident there will be many more happy moments ahead.