This is an archived article and the information in the article may be outdated. Please look at the time stamp on the story to see when it was last updated.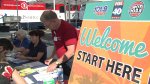 WEST SACRAMENTO-
Between two BloodSource blood drives in West Sacramento and Stockton, 432 donors were registered.
"Last year we ended with 386 registered donors, so it's safe to say, we well exceeded last years' donor participation," BloodSouce Account Manager Heather Sharp wrote.
FOX40 was a sponsor of the blood drive, which ran from 9 a.m. to 6 p.m. at the West Sacramento IKEA store parking lot and at the Pacific Avenue BloodSource in Stockton.
Thank you, sincerely, to everyone who donated.