This is an archived article and the information in the article may be outdated. Please look at the time stamp on the story to see when it was last updated.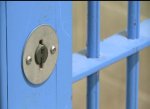 IONE-
An inmate's death at the Mule Creek State Prison in Ione is being investigated as a possible homicide.
The Amador County District Attorney's office says 43-year-old Thomas Hurst had injuries from an "in-cell disturbance" and was taken to the hospital July 26, where he later died.
Hurst's cellmate, 25-year-old Clyde Aikens Jr., was named by prison officials as the suspect in the death.
Hurst was serving a 7-year, 4-month sentence for being an ex-felon in possession of ammunition. Aikens is serving a sentence for an armed carjacking.
Officials have yet to release Hurst's cause of death.