This is an archived article and the information in the article may be outdated. Please look at the time stamp on the story to see when it was last updated.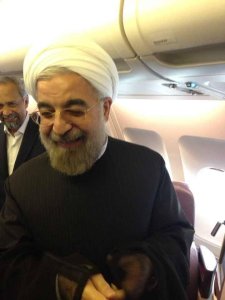 IRAN-
Iran has pledged to start eliminating some of its uranium stockpile on January 20, the White House said Sunday.
That gives an official start time for the six-month interim deal with Iran, which was first announced in November.
"As of that day, for the first time in almost a decade, Iran's nuclear program will not be able to advance, and parts of it will be rolled back, while we start negotiating a comprehensive agreement to address the international community's concerns about Iran's program," U.S. Secretary of State John Kerry said in a statement Sunday.
Iranian officials also confirmed the start date for the deal, state media reported.
As part of the agreement, Iran has agreed to start eliminating its stockpile of higher levels of enriched uranium, to dismantle some infrastructure that makes higher-level uranium enrichment possible, and not to start up additional centrifuges.
Representatives from the United Nations' nuclear watchdog agency will also monitor Iran's nuclear facilities and make sure the country is taking the required steps as part of the deal.
In exchange, some sanctions against Iran will be eased as part of what the White House calls "modest relief."
"The $4.2 billion in restricted Iranian assets that Iran will gain access to as part of the agreement will be released in regular installments throughout the six months," Kerry said. "The final installment will not be available to Iran until the very last day."
But there's a bipartisan push in Congress to tighten, rather than ease, sanctions on Iran. U.S. President Barack Obama made it clear Sunday that he would push back.
"Imposing additional sanctions now will only risk derailing our efforts to resolve this issue peacefully, and I will veto any legislation enacting new sanctions during the negotiation," Obama said in a written statement.
Iranian lawmakers have threatened to boost uranium enrichment levels if the United States imposes more sanctions against the country.
The nuclear deal struck in November with representatives from Iran, the United States, Britain, China, Russia, France and Germany has been widely hailed as a successful interim measure to stave off an unwanted conflict over Tehran's nuclear program.
But after initially celebrating a diplomatic success, Iran has reportedly lashed out at the United States for making public a modified version of the agreement that Tehran said did not reflect its interpretation.
It took three rounds of meetings with technical experts to hammer out the details of implementing the deal, European Union High Representative Catherine Ashton said in a statement Sunday.
Iranian Deputy Foreign Minister Abbas Araqchi announced the deal's start date at a press conference Sunday, saying that his country would stop 20% uranium enrichment at that time, the state-run Islamic Republic News Agency reported.
By Catherine E. Shoichet, Kevin Liptak, Jamie Crawford, Elise Labott, Linday Isaac, Chelsea Carter and Jim Sciutto
The-CNN-Wire
™ & © 2014 Cable News Network, Inc., a Time Warner Company. All rights reserved