This is an archived article and the information in the article may be outdated. Please look at the time stamp on the story to see when it was last updated.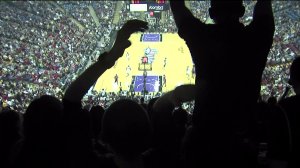 SACRAMENTO-
The Sacramento Kings released a list Monday of the upcoming season's "Top 10" games.
In keeping with the "10" theme, the tickets will go on Thursday, Oct. 10 at 10 a.m.
The team said in a news release that the games will feature special themes and fan giveaways. The team's home opener versus the Denver Nuggets will include purple shirts and glow-sticks. The Kings are calling it a "Purpleout."
November 1, when the Kings face off against the Los Angeles Clippers at Sleep Train, will be a "Blackout" game. The team will be wearing their black uniforms and fans are encouraged to also wear black.
ESPN will televise the Kings' Nov. 15 game against the Detroit Pistons. The theme of that night will be "New Era. New Swagger."
"We've had some fun with ESPN's recent ranking of the Kings," Kings President Chris Granger said in a news release. "We said then, and we'll say now, 'The Best Fans Await You.' We can't wait for the loudest, most passionate fans in the NBA to show ESPN, and the world, what Sacramento basketball is all about."
The team's 2013-14 season will also feature a "Bollywood vs. Hollywood" night April 2, when the Los Angeles Lakers come to Sacramento.
"It's going to be a memorable season," Granger wrote.
See a complete list of games, and find out how to purchase tickets, by clicking here.