This is an archived article and the information in the article may be outdated. Please look at the time stamp on the story to see when it was last updated.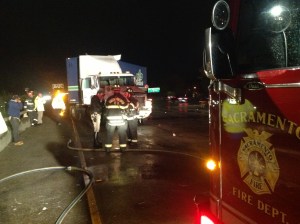 SACRAMENTO-
A jack knifed big rig snarled the evening commute Thursday in downtown Sacramento.
The truck was driving westbound on on Highway 50 when it was cut off by another car, and spun out near the 16th Street exit. The truck was a garden truck, perhaps transporting plants and merchandise from a nursery.
HazMat crews were called out to help deal with the diesel fuel spill. Some of the fuel ended up in a drainage ditch, but it will be filtered out at a water treatment plant.
No one was hurt in the crash but westbound traffic was backed up for miles, reportedly all the way to Rancho Cordova. Eastbound traffic was also backed up due to rubber necking.
Crews had to make sure to have it face the right way before towing it away.