This is an archived article and the information in the article may be outdated. Please look at the time stamp on the story to see when it was last updated.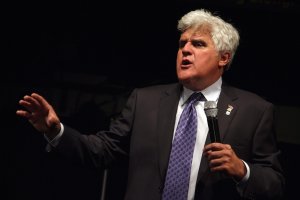 (CNN) — On Wednesday, Jay Leno confirmed the rampant reports that he's once again departing "The Tonight Show," presumably for good this time.
He'll wrap up his 22-year run as host in spring 2014, with Jimmy Fallon officially signing on as his replacement.
"Congratulations Jimmy," Leno said. "I hope you're as lucky as me and hold on to the job until you're the old guy. If you need me, I'll be at the garage."
According to a statement from NBC, "As part of the transition, 'The Tonight Show' will be returning to its original home in 30 Rock in New York" from Leno's base of Los Angeles.
The expectation that he would leave NBC's legendary late-night program has been building recently. NBC execs told The Hollywood Reporter and The New York Times in early March that Leno was going to be out and someone else, most likely "Late Night" host Fallon, was going to be in.
With Leno's contract set to expire in fall 2014, industry observers said, the move was only a matter of time.
Leno first exited "Tonight" in 2009 after 17 years as host, passing the torch to Conan O'Brien, who was then the host of "Late Night."
Leno was moved to prime time with his own program, "The Jay Leno Show," in the fall of 2009. But when that brought dismal ratings, NBC decided to put Leno back in charge of "Tonight" at the start of 2010, leaving O'Brien without a job.
The flame-haired comedian eventually moved to TBS to host his own show, "Conan," in the 11 p.m. hour, but the entire scenario generated ill will toward Leno and NBC. (TBS shares a parent company with CNN.)
Yet as the years went on, Leno has proved to be resilient. As NBC's prime-time ratings suffered, Leno's "Tonight Show" was still able to rise above the rest in its time slot.
However, NBC was said to be concerned about losing younger viewers to ABC's Jimmy Kimmel, whose "Jimmy Kimmel Live" was moved up to compete with Leno and David Letterman's "Late Show" at the beginning of 2013.
"The more time Jimmy Kimmel is in that slot, the more the young audience goes that way, the harder it is for (Fallon) to keep that audience," one source familiar with the network's thought process told The Hollywood Reporter in March.
At 62 years old, Leno represents a more traditional form of hosting, as he's known for his "Las Vegas-style comedy," said the Times. Fallon, 38, regularly incorporates the Web and social media into his act, offering "a more contemporary and varied brand of entertainment," the Times said.
This changing of the guard is one of the most closely watched exercises in pop culture, especially as it takes place at one of TV's mainstay productions. Even with its decline in ratings over the years, it remains a solid profit center for NBC, making between $25 million and $40 million for the network, according to The New York Times. And though it's been on the air for almost 60 years, "The Tonight Show" has had just a handful of regular hosts: Steve Allen, Jack Paar, Johnny Carson, Leno and O'Brien.
Fallon has a big stage to fill.
The-CNN-Wire/Atlanta/+1-404-827-WIRE(9473)
™ & © 2013 Cable News Network, Inc., a Time Warner Company. All rights reserved.