This is an archived article and the information in the article may be outdated. Please look at the time stamp on the story to see when it was last updated.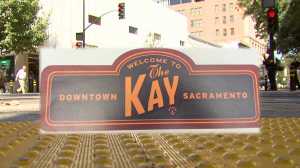 SACRAMENTO-
K Street has been through a lot of changes recently opening trendy bars, cool restaurants, and bringing back cars.
"It's exciting to see some revitalization," said K Street business owner Kathryn Rees, "Now at night there are people out, walking, they're having fun."
Rees wants K Street to keep moving, "It would be wonderful to see the attraction of boutiques, restaurants, things that will create a bigger buzz."
There's another plan in the works thanks to the Downtown Sacramento Partnership, which is to call K Street – "The Kay Street".
Downtown Sacramento Partnership marketing manager Lisa Martinez said the name could give the street an identity like a number of other Sacramento hotspots. "We've got Old Sacramento, Capitol Mall, new districts like R Street Corridor, the Handle District, and Sutter's District."
Martinez said "The Kay" won't just be the street, it will be a district. "It's bigger than just a street," she said, "It's a collection of restaurants, theaters, hotels."
The idea for the name came from the past, when the letters of streets were spelled out; for example J was "Jay" and I was "Eye".
In the next couple of weeks, signs with the new name will be put up around the new district, but Martinez added "The Kay" will be more than just a name, "It's about looking forward."
The Downtown Sacramento Partnership plans to meet with businesses to come up with ways to market the new district.