This is an archived article and the information in the article may be outdated. Please look at the time stamp on the story to see when it was last updated.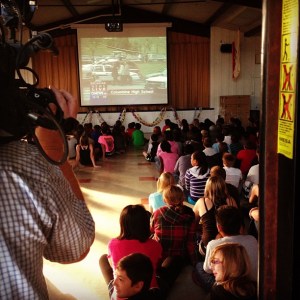 SACRAMENTO-
The images are still hard to look at, the day a massive shooting unfolded at Columbine High School in Colorado.
Today, students at Pioneer Elementary in Sacramento watched Rachel Scott's story; she was the first student killed in the 1999 massacre.
"There seems to be a code of silence with students that we need to break, they need to something to strong like this," says Michelle Nunn, Pioneer's Principal.
Nunn admits death is a hard subject for students to talk about, but situations like what happened at Columbine can prevent bullying from turning violent.
"We want to fight bullying and create an environment where passion and love rules," says Doug Brandl, the spokesman for Rachel's Challenge a non-profit organization.
The goal of today's message is to make sure students pass on love and kind words to one another.
"A little girl came up to me and gave me a hug and said thank you so much," said Brandl.
Doug Brandl says that's what Rachel would have wanted; before she died she wrote an essay on compassion for others. Her legacy lives on, Rachel's words are being used here in Sacramento and around the World.
"She said I have this theory… on how far a little kindness can go," says Brandl.