This is an archived article and the information in the article may be outdated. Please look at the time stamp on the story to see when it was last updated.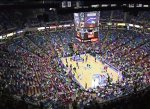 SACRAMENTO-
Fans of the Sacramento Kings will be able to use virtual money at Sleep Train Arena.
The team announced Thursday they will be the first major professional sports franchise to accept Bitcoin. It appears this is the latest announcement of what new majority team owner Vivek Ranadive calls "NBA 3.0", focusing on investments in technology and globalization.
"We are maniacally focused on creating the most seamless experience for our fans in all facets," said Ranadivé. "A major tenet of the NBA 3.0 philosophy is about utilizing technology for the betterment of the fan experience, and this is yet another step in that process."
Bitcoins will be accepted as a form of payment in the Kings Team Store now. Online purchases for team merchandise and tickets can be made with Bitcoins starting March 1.