This is an archived article and the information in the article may be outdated. Please look at the time stamp on the story to see when it was last updated.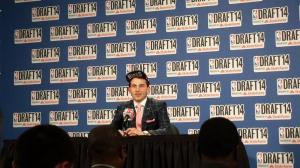 SACRAMENTO-
The Sacramento Kings' newest draftee, Nik Stauskas from the University of Michigan, spent time touring around Sacramento and meeting fans, but now he is back home preparing for the NBA Summer League in Las Vegas.
Stauskas, a 20-year-old shooting guard, was a surprise 8th-overall pick, as many draft analysts expected the Kings to draft Doug McDermott, a 6'8″ Senior out of Creighton, who is one of college basketball's all-time leading scorers. However, according to the Sacramento Kings, Stauskas believes he is "hands-down" the best shooter in this year's NBA draft. "Being the eighth pick in the Draft and being drafted to a great organization where I know they're committed to winning and doing the right things, I'm extremely happy," said Stauskas.
Stauskas posted a video to his YouTube page of his shooting drills, which he says he is going through daily until he gets to compete with the Kings in The NBA Summer League, starting July 11th.
Greg Cotta filed this report.