This is an archived article and the information in the article may be outdated. Please look at the time stamp on the story to see when it was last updated.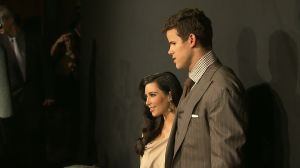 California (CNN)-
Kanye West was a proud father on Sunday night when he announced that he and girlfriend Kim Kardashian are expecting a baby, but for the state of California Kris Humphries is the presumed dad.
According to the state's Family Code, Humphries is presumed to be the father of Kardashian's baby because the two are still legally married. Kardashian filed for divorce in October 2011 after 72 days of marriage, but their split isn't yet official.
A man is presumed to be the natural father of a child if he is or has been married to the mother, and if the baby is either born during the marriage or within 300 days after death, annulment, declaration of invalidity, divorce or after a judgment of separation is entered by the court.
Humphries filed for an annulment and separation from Kardashian on December 1, 2011, but a judgment of separation hasn't been granted. The parties involved could clear up the paternity presumption with "clear and convincing" evidence, such as a DNA test.
By From Breeanna Hare, and In Session's Carol M. Gantt contributed to this report.
The-CNN-Wire/Atlanta/+1-404-827-WIRE(9473)
™ & © 2013 Cable News Network, Inc., a Time Warner Company. All rights reserved.