This is an archived article and the information in the article may be outdated. Please look at the time stamp on the story to see when it was last updated.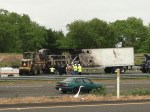 DAVIS-
Westbound lanes of Interstate 80 near Old Davis Road reopened Thursday afternoon following a deadly crash that morning.
Those lanes, however, may close again in the evening so damage to the road from the crash can be repaired.
A semi truck crossed the center divide shortly before 11 a.m., hitting another car.
Two people are dead from the crash.