This is an archived article and the information in the article may be outdated. Please look at the time stamp on the story to see when it was last updated.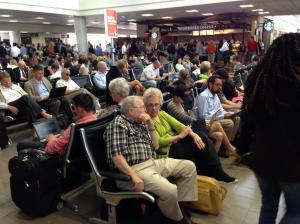 LOS ANGELES (CNN)-
Computer issues at Los Angeles International Airport (LAX) prompted a temporary ground stop Wednesday afternoon.
All arriving flights that were inside the Federal Aviation Administration's Los Angeles Flight Center's airspace at the time of the ground stop landed at the airport, according to LAX spokeswoman Nancy Suey Castles.
Approximately 10 inbound flights that were outside that airspace were diverted to other airports.
"Over 30 departing flights were held on the ground during the ground stop and experienced up to two hours delay. All departure flights are now released and will depart with an expected one-hour delay," the spokeswoman said.
Ground stop at LAX has been lifted. All departing flights are expected to be delayed one hour. Please check with airlines for flight status

— LAX Airport (@flyLAXairport) April 30, 2014
Earlier, FAA spokeswoman Laura Brown stressed that radar was not down and that authorities hoped to resolve the computer glitch soon. The agency had warned of the potential for gridlock at some area airports, citing significant volume already en route.
Departure delays of up to two hours were being reported at LAX, one hour at Salt Lake City International Airport and up to an hour and a half at McCarran International Airport in Las Vegas.
Officials had said ground stops were also in effect at Bob Hope Airport in Burbank, Long Beach Airport and John Wayne Airport, all in California.
According to LAX, the airport is the sixth busiest in the world, and the third busiest in the United States.
The-CNN-Wire
™ & © 2014 Cable News Network, Inc., a Time Warner Company. All rights reserved.