This is an archived article and the information in the article may be outdated. Please look at the time stamp on the story to see when it was last updated.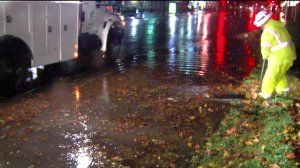 There are several intersections that are flooded Friday morning because so much rain fell in the early morning hours.
About a quarter-inch of rain fell in downtown Sacramento alone.
Below is a list of roadways and intersections that are reportedly closed, or at least limited, because of flooding.
-Walnut Avenue and Cypress Avenue, Sacramento
-Hurley Way and Fulton Avenue, Sacramento
-Roseville Road and Antelope Road, Antelope
-Walnut Avenue and Fair Oaks Boulevard, Sacramento
-Watt Avenue and Elkhorn Boulevard, Sacramento
-Eureka Road and Wellington Way, Granite Bay
-Roseville Road and Tacomic Drive, Foothill Farms
-Sierra College Boulevard and Eureka Road, Citrus Heights
-Madison Avenue and College Oak Drive, North Highlands
-Marconi Avenue and Watt Avenue, Sacramento