This is an archived article and the information in the article may be outdated. Please look at the time stamp on the story to see when it was last updated.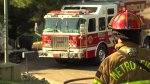 CITRUS HEIGHTS-
At least two apartments are damaged Thursday afternoon from a fire that sent one person to the hospital.
Firefighters had to get the injured person out of the Citrus Heights apartment building. They searched for other trapped victims as they battled the fire.
The apartment building is just east of the Sunrise Mall.
No word on how serious the person was injured in the blaze or what may have started the fire.