This is an archived article and the information in the article may be outdated. Please look at the time stamp on the story to see when it was last updated.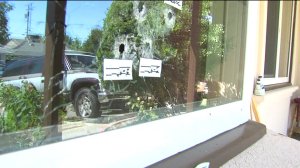 NORTH HIGHLANDS –
Three people were found shot around 10:30 p.m. last night in a home on Channing Drive near Don Julio Boulevard, Sacramento County Sheriff's deputies say.
A man and a woman in their 40's, as well as a 10 year-old girl, were taken to the hospital with serious gunshot wounds.  The man and woman are expected to survive.  The little girl passed away at the hospital.
Evidence gathered by deputies suggests that multiple rounds were fired outside of the house into the residence by a unknown number of people.  Bullets went through both the walls and windows of the home.  There is no known motive or suspects at this time.
Sheriff's say they need information on the incident. If you have any information, you can submit a tip anonymously to http://www.sacsheriff.com/tips/