This is an archived article and the information in the article may be outdated. Please look at the time stamp on the story to see when it was last updated.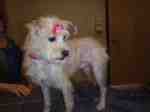 CERES—
Nearly a dozen dogs were rescued last week from what Stanislaus County Animal Services describe as a putrid home.
Neighbors tipped off authorities about the home of a single woman they suspected to be a hoarder. They reported that the house stunk and that dogs were living in unhealthy conditions.
Officers showed up at the house and found that it was full of urine and feces. Ammonia levels, thanks to the conditions of the home, were beyond unhealthy, animal services say.
In total, 11 dogs were taken from the home. Five of the dogs are being spayed or neutered and will be eventually up for adoption. Four more have been sent to animal rescue groups. Two more were found to be pregnant and are now in need of foster care.
Officials note that animals found in hoarder's houses are usually so unhealthy that they're unadoptable. However, these dogs were in good condition.
For more information about the dogs, call Stanislaus County Animal Services at (209) 558-7387.