This is an archived article and the information in the article may be outdated. Please look at the time stamp on the story to see when it was last updated.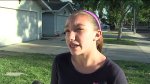 MODESTO-
Marisa Martinez, 13, is being hailed a hero for saving an 8-year-old boy from being kidnapped.
"I was pretty scared at first, but I knew I had to go and save him," said Martinez.
On Sunday, Martinez and two boys were playing basketball in a driveway when they say they noticed a man trying to break into a neighbors home.
"I asked him if he lived there. He said, 'Yeah I do.' I said, 'No you don't. You need to get out of here,'" said Martinez.
Martinez says that is when the man, identified as 32-year-old John Jenkins, grabbed one of the kids, an 8-year-old boy, and started walking away.
That is when Martinez stepped in to save him.
"I started pulling on him and told him to let the kid go and I screamed for my mom," said Martinez.
Martinez was able to pull the boy away from Jenkins and run to her mother.
Her mother and others at a nearby church kept an eye on Jenkins until Modesto Police arrived.
"Obviously, she could have been harmed by this subject," said Sgt. Ivan Valencia. "We are pretty astonished that she did this."
Jenkins is a registered sex offender. He is now in custody for kidnapping and molesting a child.