This is an archived article and the information in the article may be outdated. Please look at the time stamp on the story to see when it was last updated.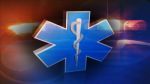 WALNUT GROVE-
Five people were injured in an early morning car accident near the Sacramento River.
A car was spotted around 2:30 a.m. along River Road, about six miles south of Clarksburg. The car was engulfed in flames.
The woman driving the car, a woman in the front seat and three men in the backseat were taken to the hospital with injuries ranging from minor to major.
CHP officers believe the woman was under the influence at the time, and ran off the road and hit a tree.
The car was completely burned. CHP officers are looking into what may have happened.