This is an archived article and the information in the article may be outdated. Please look at the time stamp on the story to see when it was last updated.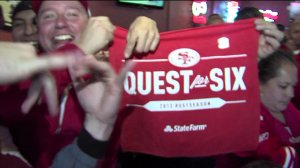 ATLANTA—
After a back and forth game, the San Francisco 49ers have prevailed and are on their way back to the Super Bowl for the 6th time — beating the Atlanta Falcons 28-24.
Atlanta jumped ahead early, scoring 17 unanswered points. But, San Francisco came alive in the 2nd quarter, first scoring on a 15-yard run from LaMichael James, then on a 4-yard pass to Vernon Davis.
The momentum shifted back to Atlanta at the close of the half, however, after Matt Ryan managed to drive his team down the field with less than 2:00 to go. Ryan connected with probable future Hall of Famer Tony Gonzalez on a 10-yard TD pass with 0:25 to go, giving Atlanta a seemingly commanding halftime lead of 24-14.
Deferring looked to have worked for the 49ers, though, after they quickly drove down the field on the opening possession and scored a TD on a 5-yard Frank Gore run.
With the score standing at 24-21, San Francisco got their chances in the 3rd quarter to take the lead. Ryan first threw an interception to CB Chris Culliver, but San Francisco's David Akers missed a field goal from the 38-yard-line. Then, Ryan fumbled at the 49er 37, only to have Michael Crabtree fumble inches from the goal line on San Francisco's ensuing drive.
San Francisco then took their first lead of the game, after a 9-yard TD run from Frank Gore in the 4th quarter.
Atlanta made it interesting towards the end of the game, driving deep into San Francisco territory. However, the 49ers were able to hold off a 4th down play by the Falcons.
The 49ers will face whoever wins the Ravens/Patriots game later Sunday.