This is an archived article and the information in the article may be outdated. Please look at the time stamp on the story to see when it was last updated.
ACAMPO–
Victoria Gribaudo is signing people in, passing out ballots, and making sure votes are counted.
And the 89-year-old is no rookie — she first set up the polling station in her Acampo garage back in 1956 when Republican Dwight D. Eisenhower defeated democrat Adlai Stevenson.
"I've being doing it here at my house for 54 years." And, she has the whole thing down to a science.
"I get cleaned up, have breakfast, come out and start working." 6 a.m. to 9 p.m., every election day. "It's my patriotic duty," Gribaudo told FOX40.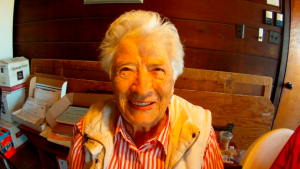 She's been doing it longer than anyone else in San Joaquin County and will be honored for her volunteerism early next year by the county Board of Supervisors. She told FOX40 she expects about 1200 people to vote in her garage Tuesday.