This is an archived article and the information in the article may be outdated. Please look at the time stamp on the story to see when it was last updated.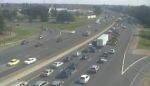 SACRAMENTO-
Traffic in the southbound lanes of Highway 99 near 47th Avenue in Sacramento slowed to a crawl early Wednesday afternoon after a serious accident.
The California Highway Patrol says the accident involved serious injuries, and that lanes are closed. Drivers are advised to take I-5 as a detour.
At least one person is dead from the crash.
Traffic is backed up all the way to T Street.