This is an archived article and the information in the article may be outdated. Please look at the time stamp on the story to see when it was last updated.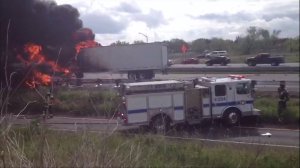 DAVIS-
At least one person died in an accident in Davis that has shut down both directions of I-80 traffic.
Just before 11 a.m., there were reports of a truck going off the road and catching fire. Initial reports from witnesses are that the truck collided with at least two other cars before crashing.
The CHP says there is at least one person dead from the accident, however there is no word who has died.
There is now a sigalert for both directions of travel along I-80 near Old Davis Road.